BFS Workroom delivers professional craftsmanship and superior quality designer standards on custom drapes such as pinch pleats, euro pleats, grommet curtains, back tab and tab top curtains, and flat top panel drapes. Enjoy quality drapery lining, weighted corers and seams, and meticulous pattern matching when you entrust us with your important projects.
We make quoting and ordering EASY-PEASY too! Simply click on the drapery fabric of interest and click on the "Custom Drapes" drop down menu to select your length and style. Add to cart and checkout if you'd like to proceed or add to wish list to save for client approval. You'll immediately see your cost for fabric and labor for quick and easy quoting and ordering.
Get started by creating an account with us. Then fill out our To-The-Trade-Wholesale Form to receive a discount off our already low fabric and custom sewing prices. Give us a try and find out why interior designers keep coming back time after time!
Don't see the fabric you need on our website? We also accept COM (Customer's Own Material)! Not only that, but if you use certain fabrics consistently, we'll also warehouse a limited number of rolls for you so as not to delay your orders due to shipping back and forth.
Click here to view our drapery header styles and for tips on how to measure for custom curtains.
Click here to view our Etsy store and read our reviews.
Questions or concerns about our fabric inventory? Feel free to reach out to us and we'll be more than happy to assist you.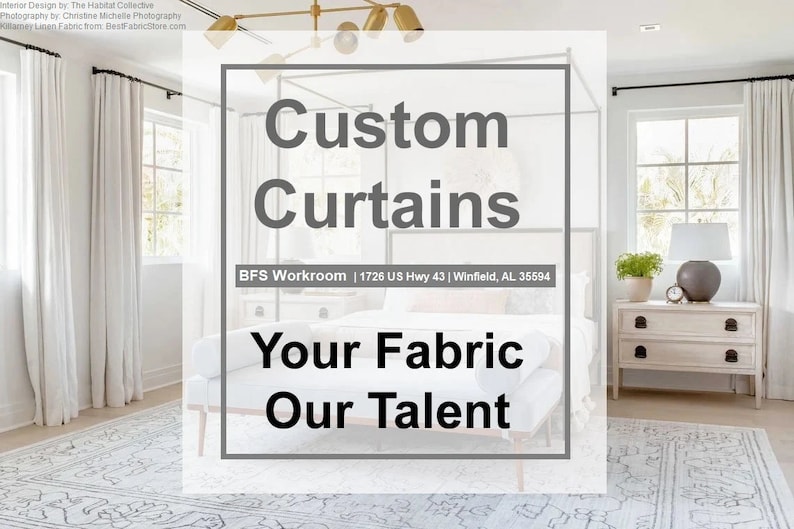 Interior Designers
As an interior designer, the fabrics, decor, and hardware are crucial in creating the perfect atmosphere in a particular space. The last thing you need is to be limited in your options! With thousands of drapery and upholstery fabrics, a wide range of trim options, and the hardware needed to install home decor, Best Fabric Store is the go-to source for interior designers all across the US. We pride ourselves on offering an amazing selection of must-have fabrics for unbeatable prices.
No matter what type or style of fabric you need for designing a space, you can easily find it here in our inventory. Your client may need a unique look for their living room or bedroom, and it's up to you to make their dreams come true. Browse through more than 4,000 fabrics that evoke feelings of home, happiness, sophistication, glam, modernity, or whatever else you need to bring to a space. From the bedspread and decorative pillows to the window coverings and other upholstered items, the look of these fabrics informs the room. You'll also find necessary hardware in beautiful finishes and styles, including curtain rods, drapery grommets, upholstery thread, brackets, drapery weights, and even a great selection of fabric treatments if you're repairing a beautiful piece of furniture. We're even capable of quickly completing custom orders for pillow covers, drapery, bedding, and Roman shades. Talk to us about your design needs and we'll ensure you get the right fabrics, hardware, and trim. We make it easy to find the patterns and colors you need to put together a truly stunning space.
Although we have a wide-ranging inventory, we're uniquely equipped to deliver personalized customer service. We'll work with you directly should you need assistance concerning our inventory. Plus, as a small business, we offer wholesale prices on our products to help you stay within your budget. Overall, you get high-quality fabrics and white glove treatment without the premium price tags.